BWS Explorer is a "Broadcast Website" Browser that uses DAB Bar 1.3 (or any DAB application compatible with the DAB Stream API) to receive the digital information and then decode it.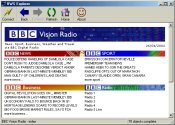 You can download BWS Explorer 1.0 from the download page.
The data services available vary throughout the UK. Sadly the BBC have indefinitely suspended Vision Radio, that was probably best described as a browsable Ceefax service for radio.
The Digizone is available on the Digital One nation multiplex that contains information from Core, Classic FM, the Cartoon Network and ITN. This contains a verity of current play list information, entertainment news and weather.
In order to use BWS Explorer you will need to have DAB Bar running and the HTTP server enabled (as it is by default). Clicking the "Connect" button will display a list of data services available in your area, just select the service you want to view and then click the "Select" button. As a broadcast website will take some time to download you may need to intermittently click the "Refresh" button to show graphics that have become available since you started to view the page.